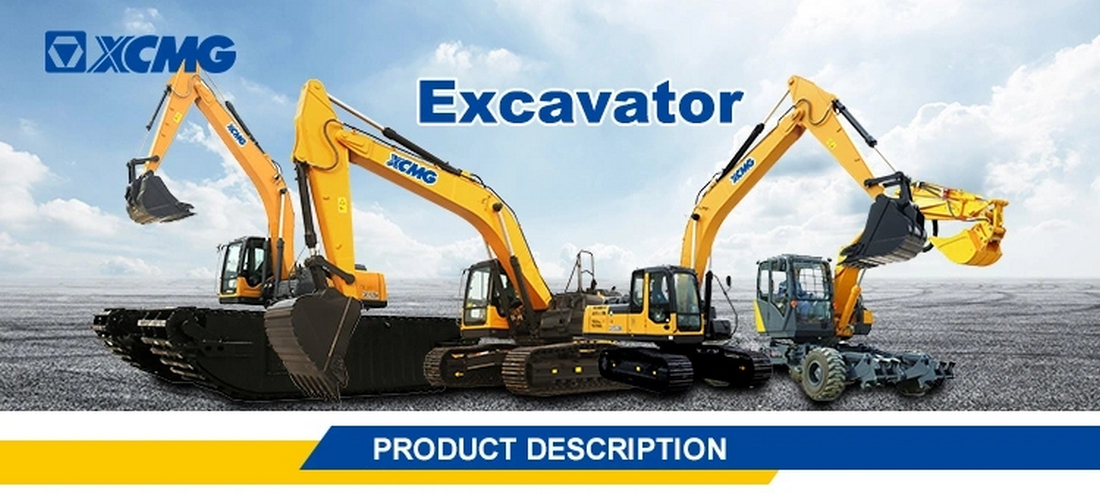 XCMG Excavator / digger
XCMG Manufacture all kinds of xcmg excavator that includes mini excavator and digger, middle-large excavator and digger, large excavator and digger.
XCMG Excavator is suitable for earth and stone construction projects such as municipal construction, highway bridges, housing construction, road engineering, farmland water conservancy construction, port construction and so on, it has features of good flexibility and maneuverability, low fuel consumption, high construction efficiency, large digging force, comfortable driving environment and wide range of application.
Advantages,
1. New generation·Environmental·Energy-saving·Large power engine
New generation environmental engine is adopted in this machine, which has both excellent environmental performance and large power, matched with ow fuel consumption design, operating costs are significantly reduced, and fuel consumption is reduced by 10% or less compared to previous generation of machine.
With independently developed intelligent study-type control system in XE215C series, it can be matched efficiently and reasonably so that the resistance of hydraulic oil return system is greatly decreased, working efficiency reaches above 15%, which has the highest earthwork efficiency among similar models.
2. High quality·Enjoyable driving
(1) Driver's cab
Brand new injection molding drive's cab, advanced ergonomic design and sufficient provide the best working environment for operators.
(2) Precautions against vibration
Double glazing glass and liquid seal shock rubber are standard so that the noise is reduced to minimum (reduced by 6DB) and the fatigue of driver is effectively relieved.
(3) Air-conditioner
The air volume of new sir-conditioning system is increased by 23%, which brings better heating and cooling effect and more comfortable operation.
3.Firm and efficient·Durable
(1) Structural parts
With finite element analysis for structural parts and application of enhanced working devices, the reliability, durability, multi-mode adaptability are greatly improved. It has the bucket with largest capacity among the same type of models so that the efficiency of whole machine is greatly improved, meanwhile overall quality distribution is optimized with excellent stability.
(2) Carrier ang frame
The new butter pool structure strongly ensures lubrication environment of slewing mechanism so that its service life is greatly extended; oversize slewing bearing and carrier system bring the whole machine stronger adaptability in mine conditions and longer service life.

Your cart is currently empty.