XCMG XE235C Hydraulic Crawler Excavator









XCMG

XE235C

Hydraulic Crawler Excavator



As an efficiency-oriented product featuring strong adaptation, green energy saving and excellent performance, the XE235C hydraulic excavator is researched and developed on the basis of the market demands, with its the main pump pressure-flow (P-Q) curve optimized to improve the working efficiency and reduce fuel consumption; its newly-updated main control valve can achieve better coordination of the executive components and smaller loss of the flow pressure; it adopts a new controller as well as upgraded processor hardware with the calculation speed increased by 20%, able to greatly improve the response time of negative flow power regulation; reasonable setting of the adjustment parameters can exclude the gas-guzzling working area of the engine, make more sufficient and reasonable use of the engine power, perfect the matching of the pump and the engine, and thus achieve high efficiency and energy saving; the brand-new cab subject to injection molding features sufficient comfortableness, low noise and a beautiful appearance, as well as a more comfortable and humanized driving space; its new air-conditioning system can offer better warming and cooling effect. This machine features sufficient flexibility, good controllability, low fuel consumption, high construction efficiency, powerful digging strength, comfortable driving environment and wide range of applications.
XCMG XE235C Hydraulic Excavator Specifications,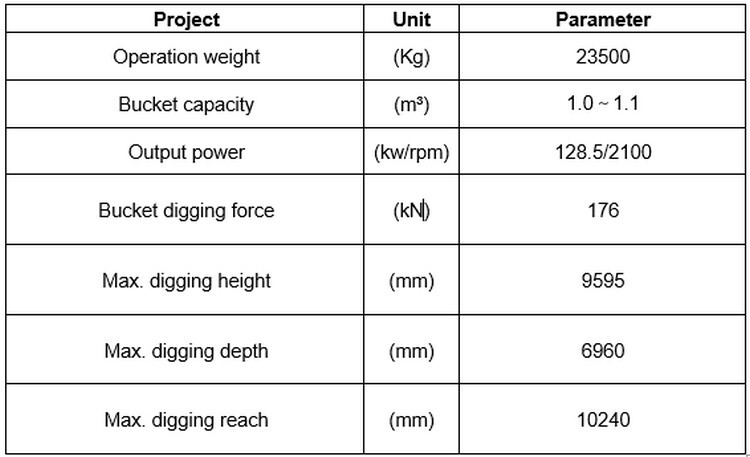 Your cart is currently empty.