XCMG XE470C Hydraulic Crawler Excavator









XCMG

XE470C Hydraulic Crawler Excavator



The XE470C hydraulic excavator has used a new generation of independent researched and developed controllers and optimized the matching between the engine power and the pump to make full use of the engine power, improve the working efficiency and effectively reduce the fuel consumption. The optimization of the hydraulic pipelines can improve the oil return pressure loss and system backpressure, effectively reduce the energy loss and ensure the machine operation steadiness and rapidness.


XCMG excavator its solid lower walking mechanism features higher durability, reliability and maneuverability, able to satisfy the demands for heavy-load operations; the reinforced four wheels and tracks configured boast more excellent performance and more reliable quality, able to comprehensively reduce the maintenance costs. Its H-shaped front working mechanism and strengthened key parts have improved the reliability during heavy-load operations.


As one of the large-sized leading models launched by XCMG Excavator Machinery Business Department with no effort spared, the XE470C hydraulic excavator has been adhering to the product design concept of "high efficiency, high-level security, low carbon emissions and environmental protection". This machine can be widely used in mining and large-scale earthwork projects and applied to the majority of soil geological conditions at home and abroad by virtue of its wide range of applications, sufficient flexibility, high construction efficiency and perfect mining capacity.
XCMG Official XE470C 47 Ton Hydraulic Crawler Excavator

XE470C hydraulic excavator is one of the leading models of large excavators launched by XCMG excavator department. The product integrates the valuable experience gained by XCMG from years of research and development of excavator products, and adopts advanced design and manufacturing methods. Meanwhile, the product adheres to the design concept of "high efficiency, high safety, low carbon and environmental protection", and has perfect mine operation ability.

Main technical performance and characteristics:
1. Ecological and economical
* Professional customized engine greatly improves fuel economy
* Hydraulic oil flow regeneration system ensures optimum machine performance
* Independent cooling system automatically adjusts fan speed

2. Multiple applications
* Different boom, arm and bucket combinations can adapt to as many working conditions as possible
* Multi-functional intelligent work tool control system can meet different operating requirements such as digging, breaking and dismanting
* Instantaneous pressurization function copes with complex working conditions.
3.Comfortable operating experience
* Air Conditioner and Heator ensure the appropriate temperature
* Silicone rubber shock absorber is adopted in the cab
* Air-suspending seat equipped with electric heating function
* Integrated control panel and large display screen provide multiple information
* ROPS and FOPS Cab can improve cab safety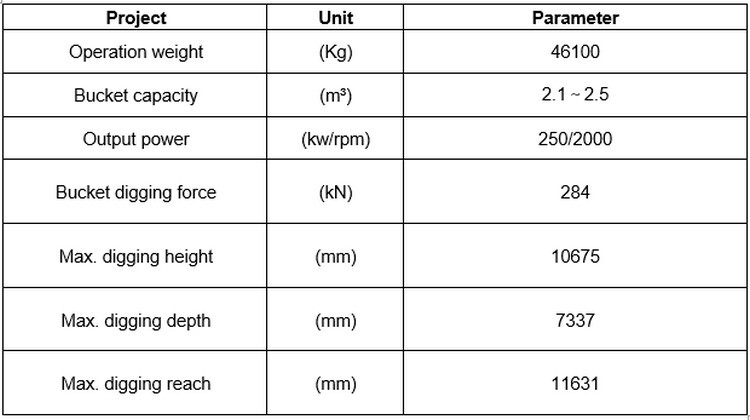 Your cart is currently empty.